27 June 2006, The Back Country
On Monday, we followed the Michelin-recommended scenic driving circuit through the Basque back country. We had our usual tussle with the French road-marking system, which assumes that, when you set out to drive to, e.g., St. Jean de Luz, your object is to arrive in St. Jean de Luz, whereas our object (as it so often is) was to drive along the twisty and scenic "Corniche Basque" that follows the coast to St. Jean de Luz. You wouldn't think it would be hard to find a road that hugs the coast—just drive west till you hit the ocean, turn left to head south, then bear left at every opportunity—but when we turned off the N10, which was headed south toward St. Jean de Luz, and drove straight west for 8 km or so, we came to a T intersection with, you guessed it, the N10 headed south toward St. Jean de Luz. Drat. It took a while, but on arriving in St. Jean de Luz (on the N10 in spite of all we could do), we finally found the other end of the D912, which we'd been looking for all along, followed it scenically back to Biarritz, turned around and began the official scenic circuit by following it back to St. Jean de Luz! The whole process is not made simpler by the French practice of assigning a route number not just to a single road but to several of its branches and tribularies, as well.

From there on, the route was easier to follow, if only because there are so many fewer roads to choose among in the back country. We passed through the prototypically Basque towns of Ascain, Sare, and Ainhoa and through Espelette, where the famous red peppers (piments d'Espelette) come from. Each town was characterized by a central square (not necessarily actually square) surrounded by the "Basque trilogy"—the town hall, the church, and the fronton (the "pelotte basque" court; I'm not sure whether pelotte basque differs from jaï alaï ; in any case, they're very similar, and I see matches advertised under both names; both are taken very seriously here). The houses, both in St. Jean de Luz and in the back country towns are mostly of the Basque style, which is white stucco with barn-red (here they say "Basque red") shutters, wooden trim, and sometimes half-timbering. They are typically arranged "en colombage"—that is, with the ridgepole perpendicular to the street rather than parallel to it, and they have wide, sloping roofs, often extending farther on one side than the other. A wooden balcony extends across the front, at second-story level.

We had lunch at the Café du Marco Polo, on the beach at Hendaye. David had another composed salad, this time with hot chevre on toasts, gizzards, lardons (lardons, which I usually translate "bacon pieces" are actually pieces of salt pork, smoked or not, about a quarter inch square and an inch long, fried until somewhat less crisp than American bacon; on a local bilingual menu, though, I found them rather inelegantly translated "plugs"—somehow "curly salad with plugs" does not sound as good as "frisée aux lardons"), corn, tomatoes, walnuts, etc. I had fish soup (rather thin; the croutons and rouille sauce were okay, but they left out the cheese mentioned on the menu) and a plate of 20 "bulots"—a favorite of mine: little 1- to 2-inch whelks boiled in the shell, served cold with mayonnaise; they give you a skinny little fork with which to extract them from their shells. They were delicious, though this particular batch turned out to consist of 19 bulots and 1 small, hapless, boiled hermit crab.

Strolling the beach after lunch, we encountered a used-book store, displaying its wares on trestle tables outside the door—we're suckers for that. It's called "Ulysse" (Ulysses) and claims to be the world's oldest all-travel bookstore; it advertises used and new travel books as well as searches for out-of-print titles. I found a battered little paperback that claimed to be a comic French novel (about travel of course), and David picked out a book on Richard the Lion Hearted (who was actually as much French as British and traveled alot on crusades). The little old lady running the place asked our nationality (she initially guessed Dutch!) and immediately broke into what could easily have been native (British) English. She gave us a card with the address of the Paris branch of the store—26 rue de St. Louis en l'Ile! Hours: 2-6 p.m. Tuesday through Friday, mornings and Saturdays by appointment! Whoa. These people are serious antiquarian book dealers; they must be making a mint to afford an address (and hours) like that, and come to think of it, despite the Hendaye shop's comfortably shabby appearance (and the 1-euro price of my little paperback), beach-front property in a beach resort town can't come cheap. They must also be serious book lovers to bother with displaying cheap used books on the sidewalk rather than just dealing with the private collectors. Another of those wonderfully serendipitous finds we stumble on in our travels. I'll have to drop by the Paris store when we're there in the first week of July.

Finally, the scenic circuit led us back to Biarritz, by a route that was barred by construction, but we managed to bushwhack our way back to the hotel through a maze of one-way streets. We could hardly wait to see whether the folks at Villa d'Eugénie would once again claim they never heard of us. This time, though, they welcomed us, with every evidence of joy, as old friends and seated us with a lovely view of the bay. We ordered à la carte, and the food was once again excellent.
Amuse-bouche: A wonderful cold soup of puréed fresh white beans (the "cocos" the French are so fond of) and cream, drizzled with lemon oil mixed with bits of salt-preserved lemon and cooked carrot. Wow.
First course, both: Spider crab "en fine velouté" with ginger and mushrooms, which turned out to a delicious, smooth, fragile crab custard studded with crabmeat, surrounded by a richly flavored crab broth tinged with ginger and full of mushrooms (enoki, cêpes, a few chanterelles). Crisp, pencil-thin strudels of something tasty but unidentified on the side. Another wow, marred only when David pressed a little injudiciously on the very wide brim of his soup plate, which tipped up suddenly, sending a tide of hot soup into his lap. The restaurant's ample, thick napkin caught most of it, and the waiter leaped to help with a fresh napkin, but the bottom two inches of his tie got pretty well drenched. Fortunately, I had a Shout wipe in my purse, and the tie matched the soup pretty well . . .
Second course, David: Filets of St. Pierre with lemon, tomato, and capers, accompanied by a braised fennel bulb.
Second course, Anne: Rare roasted breast of pigeon stuffed with foie gras on a bed of sautéed chanterelles ringed by a "crown" of crisp potatoes (perfectly round, very thin disks of potatoes overlapped to form a perfect flat ring and baked in oil until crisp, translucent, and brittle). Great.
Cheese, David: Roquefort and two dry Basque brebis.
Cheese, Anne: Chaource, St. Marcelin, and Pouligny St. Pierre (because the wonderful Valençay was gone, and the new one looked younger); the dark stuff in the middle is black cherry jam, traditional with cheese in this region. Chaource is the cheese I fell in love with many years ago on a barge cruise through the Champagne region. It was served after dinner on the first night, and when the chef greeted us at breakfast and asked what we wanted (expecting to rustle up bacon and eggs for the Americans), I said "Got any of that Chaource left from last night? I'll have a slab of that!" She thought I was weird until our friend and cruise-mate Kathy Fries-Wilson came to breakfast a few minutes later and answered the same question with "Got any of that roast pork left from last night? I'll have a slab of that!")
Pre-dessert, both: Passionfruit custard topped with raspberry sauce, raspberries, strawberry sorbet, and crumbled shortbread.
Dessert, David: Cold soup of raspberries and strawberries with vanilla ice cream and a red-wine sorbet.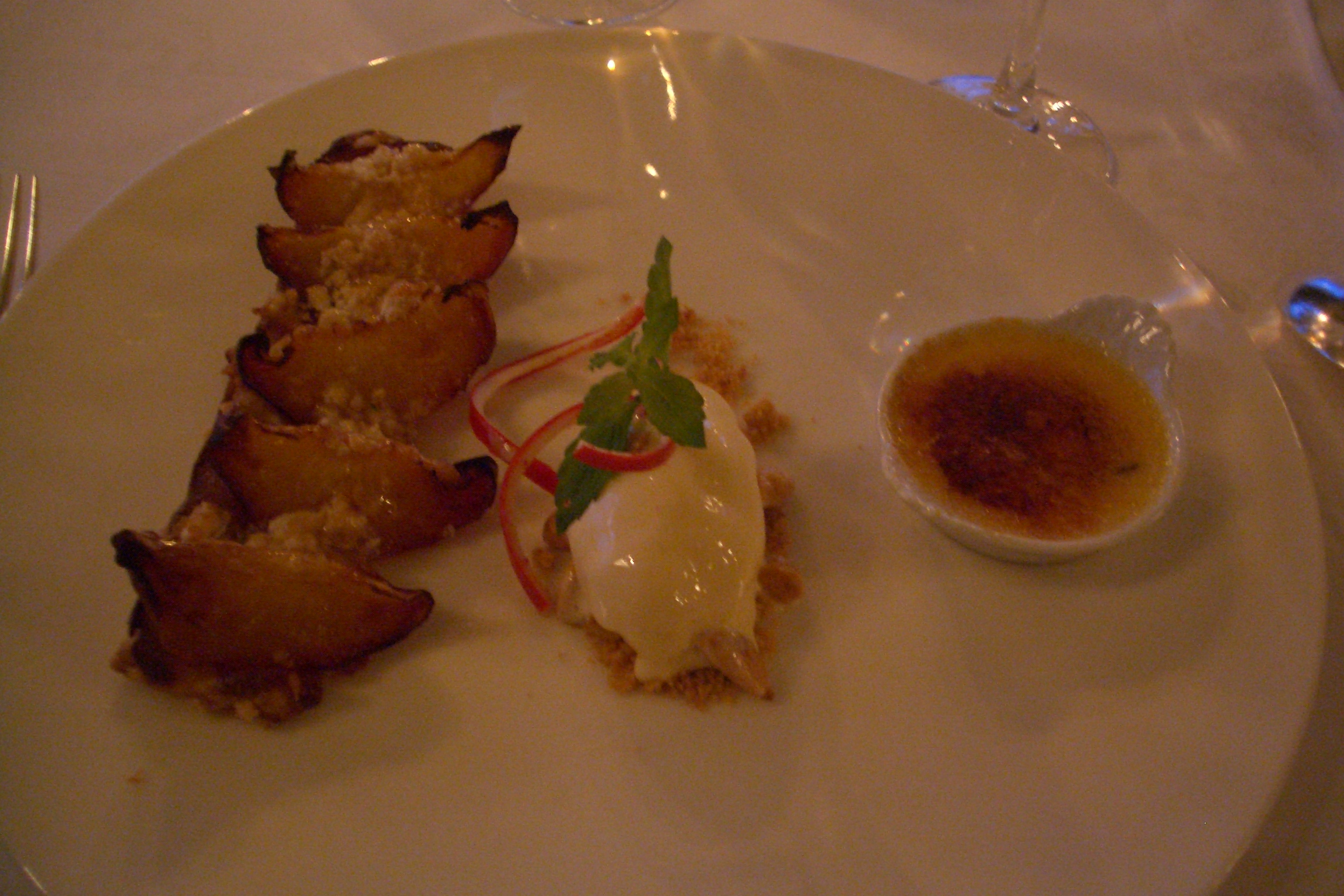 Dessert, Anne: A sort of linear nectarine tart—a strip of puff pastry, topped with a row of nectarine wedges and baked until crisp. Accompanied by Amaretto ice cream (the red-and-white curly things are actually made of chocolate) and a miniature crême brulée flavored with black pepper!